When you're developing a new construction project or need to improve an existing facility, you have to take the safety of everyone in the surrounding area. For example, you know you can't just let wastewater or grease from your restaurant runoff into the ground or nearby waterways. And if you're in a rural community or expanding your farm's facilities, you probably need to ensure your septic system is up to code.
That's where the services of an environmental engineering company like High Plains Engineering & Consulting, LLC is essential. We specialize in providing environmental engineering services to clients in the agricultural, commercial, industrial industries as well as to developers of residential projects. Our skilled team of environmental engineers and technicians specializes in septic design and on-site wastewater treatment systems in Hudson, Fort Lupton, Brighton, Strasburg, and Commerce City, CO.
Environmental Engineering
Environmental engineering is the application of science and engineering principles to improve the environment (air, water, and/or land resources), to provide healthy water, air, and land for human habitation and other organisms, and to remediate polluted sites. Environmental engineering involves water and air pollution control, recycling, waste disposal, and other public health issues.
Septic Design
Engineered septic designs are required when the percolation rate is less than 5 minutes per inch (mpi) or greater than 60 mpi and/or for sites that have limiting layers within 5 feet of existing grade. All rural commercial sites require engineered septic designs regardless of the percolation rate. We provide engineered septic designs that meet county specific regulations.
The types of systems that we design include:
Non-Pressurized drip dispersal system
EvapoTranspiration (ET) systems
Conventional "Rock & Pipe" systems
Infiltrator® Chamber systems
"Green Design" shredded tire systems
Pre-Treatment systems for clustered sites
New/Experimental Systems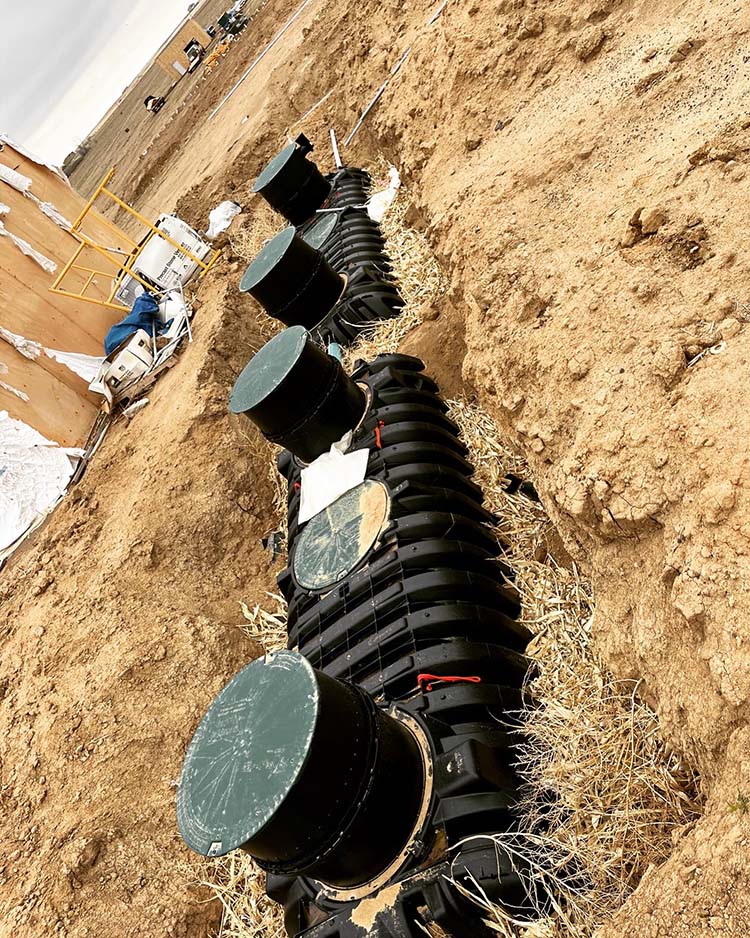 We can design systems to utilize grease interceptors for commercial service and food establishments for your existing hydraulic loading or proposed addition.
We work in concert with associate Engineers, Surveyors, and General Contractors to coordinate the most economic on-site wastewater treatment systems with optional Design-Build capabilities to streamline your project.
At High Plains Engineering & Consulting, LLC, our staff of environmental engineering specialists can help manage the septic design and wastewater management elements of any size construction project. Contact us today to set up your environmental, geotechnical, or structural engineering construction inspections and project administration.
Septic Pit Evaluation and Septic Design
While you might be able to find information online on how to design a septic system, it doesn't mean that you should. In fact, without the help of licensed geotechnical engineers who know what the laws, regulations, and local codes are as well as how to evaluate the soil and other earth materials, how would you know if your property was even suitable for a septic tank? A septic pit evaluation is completed to determine the permeability of the soil in order to properly design a septic field. Our geotechnical department has the knowledge and experience to accurately assess the soil conditions and site to design the most economical septic system for your site.