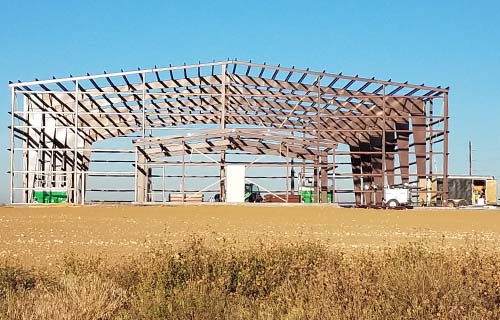 Whether you're thinking about building your dream home, developing a new office park, constructing a new barn, or trying to get to the bottom of what's causing any faults in your building's structure; you need the help of an expert structural engineering company in Hudson, Fort Lupton, Brighton, Strasburg, or Commerce City, CO.
At High Plains Engineering & Consulting, LLC, our structural engineers are involved in every step of the construction process. We make sure every project is designed to meet the local building code requirements, and your building or home is structurally sound. We work closely with the architect, owner, or builder to ensure your project is completed to pass inspection and your building will stand the tests of time and the elements.
Structural Engineering
Structural engineering is the practice of analysis and design of structures that support or resist loads using wood, steel and/or concrete. We offer a wide range of structural engineering services, including but not limited to:
Foundation Design
The Importance of Structure
Good structural designs transfer loads from structures to the earth with either a shallow or deep foundation system. We provide both types of foundation and framing designs for a variety of structures from a residential home, steel frame building, reinforced concrete tank, loading dock, light or sign pole bases, pole barn , or full structural design for Dairy and Poultry Facilities.
Below are some samples of different services High Plains Engineering & Consulting, LLC. can provide.
House Floor Plans
Reflect Your Style with a Quality Design
We supply house floor plans drawn to your layout and four elevations (front, rear, each side) that reflect your vision. Structural plans include shear walls (where required), wall framing, floor framing, header sizes and a roof layout (trusses are supplied by truss company) Bring your house floor plan ideas in to discuss transforming your dream into reality.
Framing Plans
We can develop framing plans for your new home design or addition. These plans typically specify floor joist sizes, wall studs, headers, porch & deck beams, shear walls, and balloon wall framing as needed.
Pole Barn Design
Standard and custom pole barns, lean-to roofs, and more
We draw pole barn designs to the size and shape of barn that you need at your property. We have prepared plans for Gambrel Barns with second-floor space and standard post frame barns with lean-to roofs that offer protection for your animals.
Structural Floor Design
For Stability on Expansive Soils
Homes being constructed with a drilled pier type "deep" foundation to provide a separation between the expansive soil and the basement floor require structural floor designs.
Garage Framing Plans
Whether attached or detached, Garage Framing plans can be generated to fulfill the permit requirements of your location. This type of project is key to modifying your existing house into your home by creating the space that you desire.
Forensic Analysis
Repair damages quickly and cost-effectively
We can provide Forensic Analysis of your structure to determine all causes of cracking, buckling or other structural foundation problems. Soil evaluation and a site investigation are necessary to make an assessment and provide remedial recommendations.
STRUCTURAL ENGINEERING SERVICES YOU CAN COUNT ON WHEREVER YOUR PROJECT IS
At High Plains Engineering & Consulting, LLC, we have experience providing structural engineering services for residential, commercial, industrial, and agricultural clients. High Plains is licensed in the following states: Colorado, Wyoming, Missouri, Nebraska, North Dakota, Texas, Wisconsin, and Maryland. Contact us to get started with inspections or project administration for your next geotechnical, structural, or environmental project today.